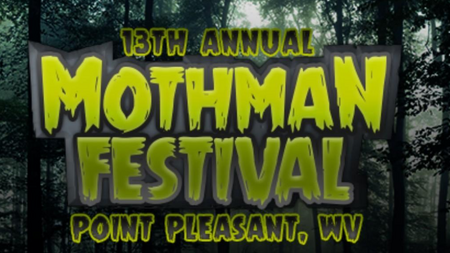 About
On September 20th and September 21st of 2014, the 13th annual Mothman Festival was held. It was centrally located in downtown Point Pleasant at Gunn Park which houses the Mothman statue.
It was a celebration of Mason County's most infamous resident, The Mothman. Activities are also traditionally planned at the Mothman Museum, State Theater, Riverfront Park, West Virginia State Farm Museum and Lowe Hotel.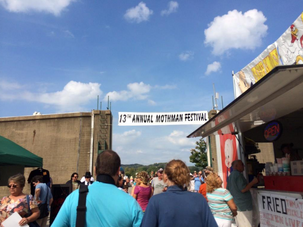 On Saturday, the festival kicked off at 9:45 a.m. at the new home of the Mothman Museum on the corner of 4th and Main streets next to the Mothman statue. It was a grand re-opening of the museum followed by the Mayor's welcome and the debut of the new Mothman costume.
Also, on Saturday Sept. 20, Mothman Hayrides were offered through the TNT area starting at 7 p.m. at the West Virginia State Farm Museum.
However, tickets were to be purchased starting at 10 a.m. at the information tent located in front of the Mothman statue in downtown Point Pleasant.
Speakers
Guest speakers on Saturday, Sept. 20 at the State Theater:
Guest speakers on Sunday, Sept. 21, at the State Theater:
11 a.m - round table discussion with various speakers
Noon - Brian Seech
1 p.m - Chris McDaniel
2 p.m - Dale Morton (Mothman costume creator)
3 p.m - Joedy Cook
Following the speakers was a free presentation of the film "White Zombie," also at the State Theater.
Bands
Bands on Saturday, Sept. 20 at Point Pleasant Riverfront Park:
3 p.m - Bunkhammer
4:30 p.m - Still Water
6 p.m - Blitzkrieg
7:30 p.m - 40lb. Snapper
9 p.m - Blue Z Band.
Bands on Sunday, Sept. 21, at Point Pleasant Riverfront Park:
Noon - Jesse Crawford Band
1:30 p.m - Andy Park and the True Lovers
3 p.m - Sandergeist
Sources:

http://cryptomundo.com/bigfoot-report/mothman-festival-landing-soon/ 

https://web.archive.org/web/20140928005707/http://www.mothmanfestival.com/ 

https://web.archive.org/web/20141020091918/http://mothmanfestival.com:80/events/ 

https://web.archive.org/web/20141020092324/http://mothmanfestival.com:80/speakers/