West Virginia has always had an aura about it, even before it was a state. Colonists mumbled that American Indians avoided the area because the "devil" haunted the region. Several strange creatures have been sighted in West Virginia. The Flatwoods Monster hit the scene in 1952 and eventually was followed by Indrid Cold and The Mothman in 1966 but there were more weird entities that was bridged the gap between the 50's and late 60's, hairy humanoid creatures known as The Apple Devils and a creature with pale seal-like skin known as The Grafton Monster.
Apple Devils
Braxton county was involved in what John Keel called a "Classic" monster case. It began around 11:00 Pm on Friday, December 30, 1960. Charles Stover was driving a bakery truck around a curve on a deserted backwoods road near Hickery Flats, West Virginia between Braxton and Webster Counties when he almost hit a monster, which stood upright, hair all over its body.
Pulling his truck to a sharp step, Stover looked back to see a six foot tall, human-shaped hairy figure right next to the road staring at him. Being a little scared, he stepped on the gas and raced along until he reached a truck stop where he related his story to a group of men. They immediately armed themselves and went to the spot where they found strange marks on the ground. They also noticed that large rocks had been overturned by something but they couldn't find any trace of the monster.
West Virginia, In general, was in the middle of a flap in 1960. Besides the Braxton County creature of December 30th, several significant Monongaheia Forest encounters happened that summer. In one extraordinary incident, W. C "Doc" Priestly was driving near Marlington, about 33 miles southeast of Flatwoods, When his car malfunctioned and stalled. All of a sudden, next to the road, Priestly saw a giant humanoid creature with all of its long hair standing on end. His companion, ahead of him, became worried and backed up their bus. When this happened, the beast's hair dropped down and it disappeared into the forest. Priestly's car started up again, and he drove along. The thing then appeared again at the side of the road. And again, his friends came to find Priestly, and the creature vanished for the last time into the trees.
In another summer of 1960 incident, at the extreme northern end of the Monongahela Forest, near Davis, a group of campers saw a "horrible monster." The witnesses said it "had two huge eyes that shone like big balls of fire" and that "It stood every bit of eight feet tall and had shaggy long hair all over the body." The creature shuffled off into the night, and the campers packed up the next morning as quickly as they could.
Around the same time, according to Fortean researcher John Lutz, when he was working at WFBR Radio, he and his boss, Lou Corbin, investigated creatures in the Pocahontas County that would take bites out of apples in the orchards around the town of Marlington. The creatures became known as "Apple Devils" or "Apple Pickers". Meanwhile, an eight-foot-tall Bigfoot-type creature with "balls-of-fire" eyes was seen by many people, around Parsons, also in the northern part of the Monongahela Forest during that weird summer of 1960. Could it be the same creature?
The Grafton Monster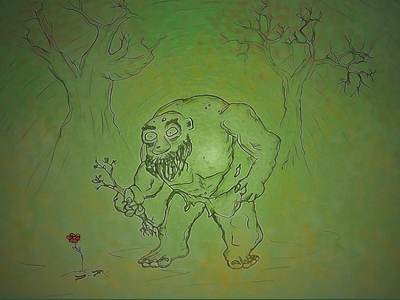 Five years later, 30 miles northwest of Davis, just outside of the Monongahela Forest, a secluded area near the Tygart River at Grafton was the scene of a series of creature sightings. In 1995, Mark A. Hall discovered, while digging into the
Gray Barker
Collection in West Virginia, the unpublished details of what was called locally the "
Grafton Monster
". Robert Cockrell, a newsman at the Grafton
Sentinel
, first spied the creature around 11 PM, on June 16, 1965. Cockrell was motoring along Riverside Drive, on the wild west side of Grafton, when he came around a wide curve.
He told interviewer Gray Barker: "I know the road well, the night was clear ... As I glanced up, my high beams picked up a huge white obstruction on the right side of the road standing between the road and the river bank on a cleared off section of grass. After glimpsing the Thing, I speeded up to get off that road as soon as possible. My impressions of the beast were: It was between seven and nine feet tall, it was approximately four feet wide, and has a seal like skin or covering which had a sheen to it. It had no discernible head and did not move as I passed by." Cockrell returned with the police to no avail. Others reported seeing it after his sighting, and Cockrell wrote up two articles that were highly censored by the paper's editor. And then it disappeared into the monster lore of West Virginia.
Formerly a railroad boomtown, Grafton, West Virginia, today seems somewhat an anomaly — a village of big-city architecture locked in a territory of small farms and dense woodlands. Through these woodlands prowls a monster, some say. The legend of the Grafton Monster has endured since the 1960s, when sightings were at their peak. According to the book "Monsters of West Virginia," eyewitnesses have estimated that it stands between seven- and nine-feet tall and is cloaked in pale skin that is slick like that of a seal.
When the creature was featured on the Television show "Mountain Monsters", They showed a very hazy images captured during an instance of spooked cattle that depicted very tall creature moving quickly through the treeline.
Some say that The Grafton Monster is headless, others think it might've been mistaken for headless with its appearance being more like a skulking monster, its head tucked close to its chest. Some say it lets out a low whistle as it stalks its prey.
Refrences:

Mothman and other curious encounters by Loren Coleman

Monsters & Ghosts of West Virginia by Eric Turner and Isaac McKinnon

Ad blocker interference detected!
Wikia is a free-to-use site that makes money from advertising. We have a modified experience for viewers using ad blockers

Wikia is not accessible if you've made further modifications. Remove the custom ad blocker rule(s) and the page will load as expected.