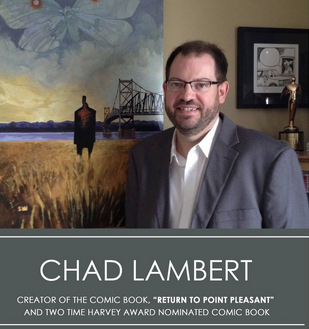 Chad Lambert is a comic book writer and editor. He wrote and edited the Mothman comic "Return to Point Pleasant".
He was also in the documentary "Eyes of The Mothman". Chad Lambert often speaks at the Mothman Festival.
Return to Point Pleasant
Return to Point Pleasant is a 72 page hand-painted comic based on The Mothman of West Virginia folklore. The comic was released on September 1st 2008.
The story consists of time traveling scientists journeying to Point Pleasant, West Virginia in search of the Mothman. It also covers events such as Revolutionary War and the 1967 Silver Bridge disaster.
Lost Grooves
Lost Grooves is an anthology of short stories by Chad Lambert which includes Mothman content left over from the Return to Point Pleasant book. Lost Grooves was released in 2012. It also had a variant cover created just for the Mothman Festival. The cover featured imagery of The Men In Black and the Mothman.
The Art of Point Pleasant
In 2015, The Art of Point Pleasant was released because of the demand for more content. It is a collection of covers, sketches and left over art from the Return to Point Pleasant book.
Ad blocker interference detected!
Wikia is a free-to-use site that makes money from advertising. We have a modified experience for viewers using ad blockers

Wikia is not accessible if you've made further modifications. Remove the custom ad blocker rule(s) and the page will load as expected.