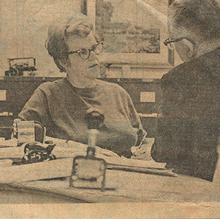 Mary Hyre was a newspaper reporter for "The Athens Messenger". She was also the manager of their office on 6th Street in downtown Point Pleasant, West Virginia.
During the Mothman sightings in Point Pleasant, Mary Hyre would often report on the odd occurrences in her newspaper column called "Where the Waters Mingle". As a result, Author John Keel and Mary Hyre became associated together out of mutual interest in the subject.
She was often relentless in her endeavor to report the strange phenomenon going on in Point Pleasant, some believed this lead to the "Men In Black" paying regular scheduled visits to her office in attempts of putting a stop to her released newspaper reports.
Her most notorious and well known stories were one in which she regretted ever having to write. These were the numerous reports that she released on the collapse of the Point Pleasant Silver Bridge which killed 46 people on a late December evening on 1967.
Mary Hyre died on February 15th 1970, 13 months after The Silver Bridge Collapse and 26 months after the Scarberry and Mallette Mothman sightings. She lived to be 54 years of age and had worked for The Athens Messenger for over 27 years. She was dedicated to her family, her career and her hometown of Point Pleasant.
In 1975, John Keel dedicated his book, The Mothman Prophecies, "To Mary Hyre and the People of West Virginia."
 Sources: 

"Who was Mary Hyre?" Long Poster At The Mothman Museum

"25 Years At The Messenger Brought Laughs, Tears by Mary Hyre" Newspaper, May 8th 1967

"Point Correspondent Mary Hyre Dies at 54" Newspaper, February 17th 1970

"Mason 'Mothman Prophecies' Author Keel Deicates Book to the Late Mary Hyre"
 Newspaper, March 30th 1975

Ad blocker interference detected!
Wikia is a free-to-use site that makes money from advertising. We have a modified experience for viewers using ad blockers

Wikia is not accessible if you've made further modifications. Remove the custom ad blocker rule(s) and the page will load as expected.