The entire Men In Black Movie series is based on a comic that is based on the general idea of The Men In Black known from UFO culture and Folklore. For some reason, The films actually attempt to paint the MIBs as the good guys, rescuing the people from the truth of the unknown as if that is a positive thing.
The term 'Men In Black' was popularized by The Main MothMan Investigator, John Keel, as a generic way of describing the mysterious men threatening MothMan and UFO witnesses in Point Pleasant, West Virginia in 1966 and 1967. The films do not make mention of The MothMan or Point Pleasant in any way.
Men In Black I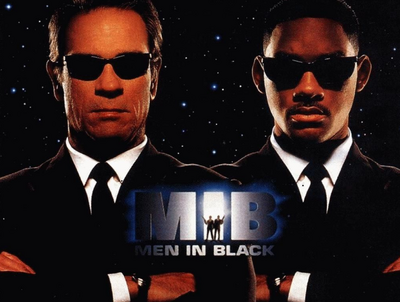 Men in Black is a 1997 American science fiction buddy cop action comedy film directed by Barry Sonnenfeld and produced by Walter F. Parkes and Laurie MacDonald. Loosely adapted from The Men In Black comic book series created by artist Lowell Cunningham, the film stars Tommy Lee Jones and Will Smith as two agents of a secret organization called the Men in Black who supervise extraterrestrial lifeforms who live on Earth and hide their existence from ordinary humans. The film featured the creature effects and makeup of Rick Baker and visual effects by Industrial Light & Magic.
The film was released on July 2, 1997, by Columbia Pictures, and grossed over $589.3 million worldwide against a $90 million budget, becoming the year's third highest-grossing film. It received worldwide acclaim, with critics highly praising its witty, sophisticated humor, Jones and Smith's performances, and Danny Elfman's musical score. The film received three Academy Award nominations for Best Art Direction, Best Original Score, and Best Makeup, winning the latter award. Following the film's release, Ray-Ban stated sales of their Predator 2 sunglasses (worn by the organization to deflect neuralyzers) tripled to $5 million. The film has spawned two sequels, Men in Black II (2002) and Men in Black 3 (2012), and an animated series.
Plot:
Agent K and his partner Agent D intercept a truck smuggling illegal immigrants into the United States. Inside they discover an alien disguised as a human. When he runs, they shoot him and use neuralyzers to wipe the memories of the border patrol witnesses. D decides to retire and asks K to wipe his memory too.
NYPD officer James Darrell Edwards III pursues a supernaturally fast and agile suspect. Before the suspect jumps to his death, Edwards sees his irises blink horizontally. In upstate New York, an alien crash-lands and kills a farmer named Edgar to use his skin as a disguise.
K interviews James about his encounter, then neuralyzes him and leaves him a business card with an address. Edwards goes to the address and undergoes a series of tests, for which he finds unusual solutions. While the other candidates are neuralyzed, K offers Edwards a position with the Men in Black (M.I.B.), a secret non-government agency that polices extraterrestrial activity on Earth. Edwards accepts and his identity is erased, becoming Agent J, the newest M.I.B. recruit.
The alien in Edgar's skin goes into a New York restaurant and kills two aliens disguised as humans. He steals from them a container, searching for something, but finds only diamonds inside. After investigating the crash landing at the farm, K concludes that Edgar's skin was taken by a "bug", a species of aggressive cockroach-like aliens. He and J head to a morgue to examine the human bodies the bug killed. Inside one body they discover a dying Arquillian alien, who says that "the galaxy is on Orion's belt". The alien, who used the name Rosenberg, was a member of the Arquillian royal family and his death may spark war.
M.I.B. informant Frank the Pug, an alien disguised as a dog, explains that the missing galaxy is a massive source of energy housed in a small jewel. The bug and J separately deduce that the galaxy is hanging on the collar of Rosenberg's cat Orion, which refuses to leave the body at the morgue. J and K arrive just as the bug takes the galaxy and kidnaps the coroner, Laurel Weaver. The Arquillians deliver an ultimatum to M.I.B: return the galaxy within an hour or they will destroy Earth.
The bug arrives at the site of two disguised flying saucers, the observation towers of the New York State Pavilion at Flushing Meadows, and abandons Laurel. The bug escapes on one saucer, but K and J shoot it down. It sheds Edgar's skin and swallows J and K's guns. K provokes it until he too is swallowed. The bug tries to escape on the other ship, but J slows it down by taunting it and crushing cockroaches, angering it. K blows it apart from the inside, having found his gun inside its stomach. They recover the galaxy and are about to be attacked by the bug again but Laurel shoots it with J's gun.
At M.I.B. headquarters, K tells J that he has not been training him as a partner but a replacement. K bids J farewell before J neuralyzes him at his request; K returns to his civilian life and Laurel becomes J's new partner, L.
Men In Black II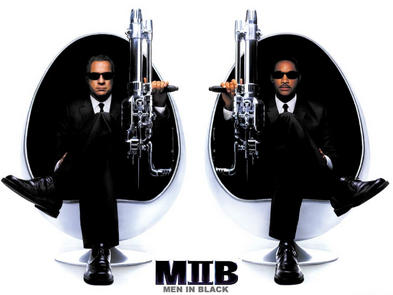 Men in Black II (MIIB) is a 2002 American science fiction action comedy film starring Tommy Lee Jones and Will Smith. The film also stars Lara Flynn Boyle, Johnny Knoxville, Rosario Dawson, Tony Shalhoub and Rip Torn. The film is a sequel to the 1997 film Men in Black and was followed by Men in Black 3, released in 2012. This series of films is based on the Malibu / Marvel comic book series The Men in Black by Lowell Cunningham. A video game partly based on the film was released in 2002 titled Men in Black II: Alien Escape. Agent J must bring Agent K back from retirement when the evil Kylothian, Serleena comes to Earth looking for the Light of Zartha, a source of great power that will destroy the entire Earth if it doesn't leave the planet soon.
Plot:
Five years after Agent K's retirement, Agent J (Will Smith) is now a top operative for MIB, the New York City-based agency that secretly monitors and regulates extraterrestrials' activity on Earth. J's former partner, L, decided to return to work in a morgue, leaving J without a partner, and those he has recruited do not live up to his standards once in the agency; he neuralyzes them to erase their memories before returning them to their previous lives.
J is called to investigate the murder of an alien owner of a pizzeria. He interviews the waitress, Laura Vasquez (Rosario Dawson), learning that the murderers were two other aliens, Serleena, a shapeshifting Kylothian who has taken the form of a lingerie model (Lara Flynn Boyle), and Scrad (Johnny Knoxville), a two-headed alien working for Serleena. Laura states they were looking for the Light of Zartha. Though MIB rules state that he should neuralyze Laura, J has become infatuated with her, and lets her go.
J finds the Light of Zartha is a potent weapon, but the only trace of information is tied to K. J goes to Truro, Massachusetts to find K, now working as the postmaster of the town, and convinces him aliens exist by showing the other postal workers are aliens. K agrees to go back to New York City. As they start the deneuralyzing process at MIB headquarters, Serleena and Scrad launch an attack on MIB, causing the facility to go into lockdown. J and K are evacuated from headquarters before the process is complete. J takes K to Jack Jeebs (Tony Shalhoub) to use his illegal deneuralyzer. K regains his former MIB memories, but reveals that he has neuralyzed himself years before regarding the Light. He left himself a series of clues.
At the pizzeria, they find a locker key. While there, Laura expresses concern for her safety, and J takes her to stay with the worm guys. The key opens a locker in Grand Central Station occupied by a society of tiny aliens who worship K as their deity; the aliens give them a video store membership card. At the video store, they find a tape that fictionalizes the story of the Light of Zartha, but watching it causes K to recall the truth: in the past, he and other MIB met the Zarthan Queen Laurana when she arrived on Earth. She requested they keep the Light safe, but MIB was concerned about any retribution. Serleena suddenly arrived and killed Laurana; K activated Laurana's ship which lured Serleena away giving them time to hide the Light. Despite these memories K is unaware of what the Light actually is, but does know that if it is not returned to Zartha soon, it will explode and destroy Earth.
They return to the worm guys to find that Laura has been kidnapped by Serleena, believing a bracelet she wears is the Light. J, K, and the worm guys launch an attack on headquarters, enabling them to free Laura and the other agents; Serleena attempts to flee but is eaten by Jeff, a giant worm-like alien living in the New York Subway. Laura's bracelet leads them to a skyscraper where they find a ship ready to launch and return the Light to Zartha. J and K finally realize that Laura is the Light as the daughter of Laurana; K remains coy when J questions if he is her father. J and Laura are hesitant to let her go but K convinces them it is for the good of the planet. As the ship starts to take off, Serleena, now occupying the form of Jeff, attempts to snatch the ship, but J and K kill her in time, and the ship departs. Because of the publicity of their activities, K initiates a neuralyzer hidden in the torch of the Statue of Liberty to wipe memories across the city.
Later, K and MIB Chief Zed (Rip Torn) try to console J by moving the tiny locker-dwelling alien society—which now worships J—into J's MIB locker. When J suggests showing the miniature creatures that their world is bigger than a locker, K shows J that the human universe is itself a locker within an immense alien train station.
Men In Black 3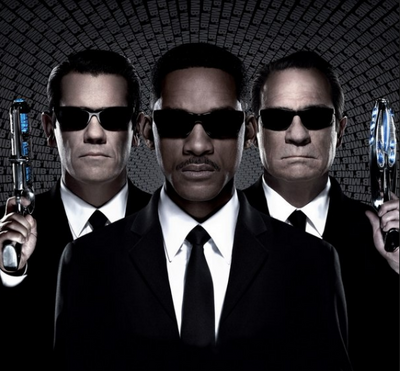 Men in Black 3 (stylized as MIB³ and alternatively spelled Men in Black III) is a 2012 American 3D comic science fiction-action film directed by Barry Sonnenfeld and starring Will Smith, Tommy Lee Jones and Josh Brolin. It is the third and final installment in the original Men in Black film series based on Lowell Cunningham's The Men in Black comic book series published by Marvel and Malibu Comics. It was released fifteen years after the original Men in Black (1997) and ten years after the first sequel, Men in Black II (2002). Sonnenfeld and Steven Spielberg returned as director and executive producer, respectively. The film focuses on an old enemy of Agent K, Boris the Animal, escaping from prison and going back in time to kill the younger K in order to allow his species, a ruthless alien race known as Boglodites, to attack Earth. This forces Agent J to go back in time and team up with K's younger counterpart on a mission to save his partner and the world.
Men in Black 3 received generally positive reviews from critics and became a box-office success with a worldwide gross of over $624 million. Unadjusted for inflation, it is the highest grossing film in the series.
Plot:
In 2012, an alien criminal, Boris the Animal, a Boglodite, escapes from a maximum-security prison on the moon and arrives on Earth, bent on taking revenge on Agent K, who shot off his left arm and captured him in 1969. He confronts K, who is with his partner Agent J, telling him he is "already dead". J then discovers that K was responsible not only for capturing Boris, but for deploying the "ArcNet", a shield that prevented the Boglodites from conquering Earth and caused their extinction.
Boris travels back in time to kill the young Agent K. With history altered so that K is long-dead, J finds that only his memory has been unaffected, and no one from the Agency understands his obsession with K until Agent O, the new Chief, deduces that there has been a fracture in the space-time continuum. With K out of the picture, the ArcNet was never deployed, and there is nothing to protect the present-day Earth from the Boglodite invasion, so J must travel back in time to stop Boris and save K. Back in 1969, he travels to Coney Island, knowing from the Agency's records that, in 1969, Boris will commit a murder there. He finds Boris, but is discovered and arrested by 1969 K, who prepares to wipe his memory, but decides at the last minute to investigate J's claims. K and J follow clues, leading them to a bowling alley, and then to The Factory, where they come across an alien named Griffin, who is in possession of the ArcNet. Griffin, who can see all possible future timelines and outcomes, senses Boris is coming and escapes, but he later captures him. J and K pursue and rescue Griffin, acquiring the ArcNet. 1969 Boris escapes and 2012 Boris arrives and they team up.
Upon learning that they must go to Cape Canaveral, Florida and attach the ArcNet to the Apollo 11 rocket so it can be deployed in space, J reveals the real purpose of his mission to K, who initially takes the news badly. The three fly there using jetpacks, and are stopped by military police. Griffin shows a skeptical colonel the future, convincing him of the importance of their mission, and the officer then assists them in reaching the launch site. As the agents climb up the rocket's launch tower, they are attacked by both 1969 Boris and 2012 Boris. Using his time-travel device, J evades an attack by 2012 Boris and knocks him off one of the launch tower bridges. K shoots off 1969 Boris's left arm (which restores the timeline), knocking him off the tower as well. The ArcNet is attached and deploys successfully when the rocket launches, with 2012 Boris being incinerated by the rocket's exhaust. 1969 Boris then attacks K on the beach, but the colonel pushes K down and out of the way, taking the hit himself instead. K then kills Boris (which 2012 K had regretted not doing) instead of arresting him as he originally did. The colonel's young son inquires about his father, but rather than tell him the truth, K wipes his memory and tells him only that his father is a hero. Observing from afar, J realizes that the young boy is himself, the colonel was his father, and that K has actually been watching over him all his life.
References:

https://en.wikipedia.org/wiki/Men_in_Black_(film)

https://en.wikipedia.org/wiki/Men_in_Black_II

https://en.wikipedia.org/wiki/Men_in_Black_3