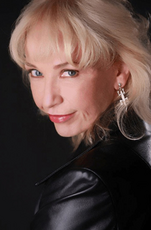 Rosemary Ellen Guiley
 is an prolific American writer, researcher and speaker on topics related to the occult and the paranormal. She is a radio show host, "a certified hypnotist", a board director of the "National Museum of Mysteries and Research" and the "Foundation for Research into Extraterrestrial Encounters", and a "Lifetime Achievement Award" winner from the Upper Peninsula Paranormal Research Society, Michigan. She has written over than 49 books, including ten encyclopedias.
Guiley is a consulting editor of FATE magazine and a regular guest on Coast to Coast AM. She has made television appearances on various networks, including A&E, The History Channel and The Discovery Channel. Her work has been translated into 14 languages. She takes part in conventions and events like the International U.F.O Congress and Conference, Vail Symposium, and Michigan Paranormal Convention.
Mothman
Rosemary Ellen Guiley was a friend of John Keel. He considered her to be one of his favorite people. She has spoken several times at the Mothman Festival and released a book titled "Monsters of West Virginia: Mysterious Creatures in the Mountain State" in 2012 which featured Mothman content. She also did another West Virginia themed book in 2014 called "The Big Book of West Virginia Ghost Stories".
References:

https://en.wikipedia.org/wiki/Rosemary_Ellen_Guiley

http://www.johnkeel.com/?p=867