About
The Mothman Museum was opened in 2005 by Jeff Wamsley. It is a museum dedicated to the Mothman of West Virginia folklore.
The museum is located right next to The Mothman statue on Main Street in Point Pleasant, The town in which the original 1966 -1967 Mothman sightings are said to have occurred.
Its the World's Only Mothman Museum and Shop, The #1 destination for Mothman fans and for things to do in Point Pleasant.
The Mothman Museum is the only place where you can see the largest collection of props and memorabilia from the movie "The Mothman Prophecies" and read rare historical documents from the Scarberry and Mallette Mothman eyewitnesses documenting what they experienced that fateful night on November 15th 1966.  
The museum contains rare
press clippings
and photographs of the 
Silver Bridge disaster
and information about the historical figureheads of the Mothman legacy like
John Keel
,
Mary Hyre
, and the many eyewitnesses. The museum is open seven days a week from 12pm to 5pm, excluding major holidays. It is the premiere stop for Mothman fans and entry is $3.00 for adults and $1.00 for kids ages 10 and under.​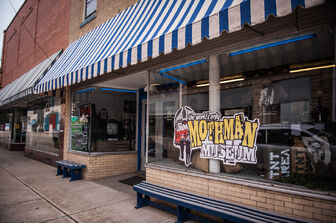 The Mothman Museum Contains:
Rare archives all about Mothman and the mysterious happenings that occurred in Point Pleasant in 1966 and 1967.  
Rare handwritten police reports from the original Mothman eyewitnesses documenting what they experienced.
Original press clippings, video footage of the Silver Bridge disaster and Mothman articles.
Exhibits on John Keel, Mary Hyre and The Silver Bridge.
The Merchandise Store filled with Mothman souvenirs (T-shirts, hoodies, novelties, carrying bags, books, Mothman Energy drink, stickers, buttons, and more). Basically everything Mothman! 
Mothman Prophecies movie prop collection used in the film. 
Lifelike costume/replica (perfect for photo opps).  
Located right next to the famous Mothman Statue. 
The Old Location
The Lowe Hotel
before moving across the street to be directly by The Mothman Statue.
The old location later became The Navy Poster Museum.
Ad blocker interference detected!
Wikia is a free-to-use site that makes money from advertising. We have a modified experience for viewers using ad blockers

Wikia is not accessible if you've made further modifications. Remove the custom ad blocker rule(s) and the page will load as expected.