13 Months That Changed History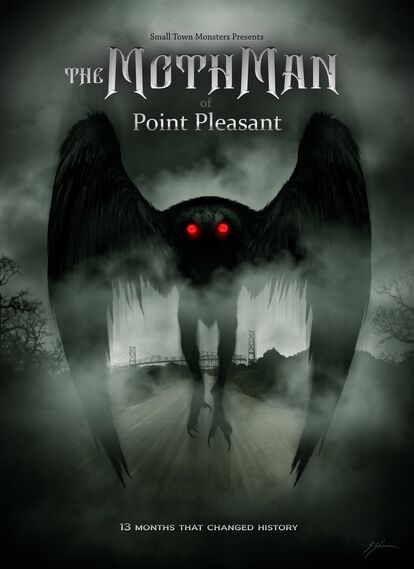 About
The Mothman of Point Pleasant is a 1 hour 11 minute documentary about the Mothman of West Virginia Folklore. Its was released on June 2nd 2017 and directed by Seth Breedlove of the production company Small Town Monsters. The soundtrack was composed by Brandon Dalo and a Kickstarter project was utilized to help with the funding.
The documentary was filmed in Point Pleasant and also contains animated sequences. It focuses mainly on the chronological telling of strange reports in the town during the 13 month period of November 1966 to December 1967. The film's tag line is "13 Months That Changed History".
Interviews:
The film features interviews with Point Pleasant locals and Mothman witnesses. It also uses never before seen interview footage from Jeff Wamsley's archive.
Cast and Crew:
Seth Breedlove - Director, Producer, Writer, Editor
Zac Palmisano - Photography
Brandon Dalo - Music Composer
Matt Harris - Art Director
Chris Scalf - Animator
Sam Shearon - Cover/Poster Art
Lyle Blackburn - Narrator
Jason Utes - Production Manager
Aaron Gascon - Production Manager
The STM Timeline:
In the film, a graphic is periodically displayed which shows a listing of several Mothman and UFO sightings ranging from November 1966 to December 1967. The Small Town Monsters list or timeline for The Mothman of Point Pleasant gives the date along with a brief description. It goes as following :
Nov 16, 1966 - Woman visiting relatives stunned by strange creature, Mysterious lights in sky appear
Nov 18, 1966 - Two volunteer firefighters startled by large bird - Point Pleasant on High Alert as armed posses hunt "The Bird"
Nov 21, 1966 - Charleston man finds himself face to face with "Bat Man"; it flies like a helicopter!
Nov 27, 1966- Charleston residents have two encounters with glowing, red-eyed Mothman, Point Pleasant Resident sees Bird-like man standing near roadside
Jan 22, 1967 - Man finds bizarre tracks after strange lights appear in sky
Mar 5, 1967 - Flying saucers attack! Many see in Point Pleasant
Mar 20, 1967 - UFO seen hovering over silver bridge in Point Pleasant; sightings continue
April 2, 1967 - Point Pleasant resident seeks meeting with little green men!
April 9, 1967 - Mason County School teacher falls victim to latest flying saucer "The size of a Volkswagon", she insists
Making of The Film:
Seth Breedlove, who lives in northern Ohio, credits the "Mothman Prophecies" film with his love of paranormal subject matters. However, that curiosity is paired with his upbringing by parents who owned a bookstore dedicated to books on history. In fact, the family traveled the country going to historical book shows. He was also a journalist at one time who enjoyed writing about people's lives.
"The small human stories drew me to make the movies we make," he said, adding this movie was an opportunity to tell something more than a scary story. "For me, this story is a piece of Point Pleasant's history" he said, "Whether or not they (people) want to believe (in Mothman) is totally up to them. You can't deny it was a part of the town's history."
Breedlove said that so much had already been done on the subject matter, he wasn't sure if he could bring anything new to the table. So, he traveled to Point Pleasant and met with Jeff Wamsley, owner of the Mothman Museum and author of books on the sightings. Breedlove credits Wamsley and his daughter Ashley Watts for getting the movie made because Ashley convinced Wamsley to give Breedlove access to audio recordings of interviews with witnesses to use. He also gave Breedlove his 8mm film footage taken by a relative the day after the Silver Bridge collapsed.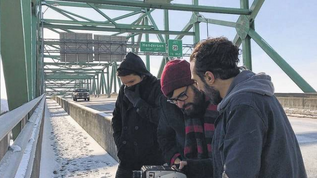 "It is my favorite shot in the footage and the first time I saw it, I cried," he said. Breedlove looks at the bridge collapse as obviously part of the town's history and doesn't try to connect it to Mothman, he simply includes it as part of those 13 months the film looks at. Breedlove said early on when he was considering the film as a possibility, he had traveled to the Mothman Festival and talked with a local man who remembered the bridge disaster well. "His memory of the bridge collapse was what made me want to make the movie," he said.
"It has never been seen," Breedlove said, recalling a shot of people in the film standing along the flood wall the day after the tragedy. Breedlove stressed he felt tying in the Mothman sightings with the disaster "always struck me as very wrong. I wanted to show the Silver Bridge collapse was just a part to these crazy series of things that happened in 13 months, rather than the Mothman caused the bridge collapse."
Breedlove said the small town aspect of the story and the cultural impact of the sightings initially drew him in to the project which took only 3.5 days to shoot and two months of post production on the independently, self-funded project. There were some technical glitches along the way, like a drone getting stuck in a tree and what he describes as "serious technical problems filming interviews." However, post production, which includes an original score and animated sequences, were relatively smooth. "It was simultaneously the hardest film to make and the easiest," he said, adding the movie wrapped in February.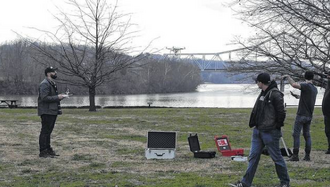 "I'm more proud of this movie than anything I've ever done," Breedlove said. "I hope people from Point Pleasant will feel like it's respectful to the town…it's always really important to us when we're making a movie to make sure not to portray the town in a negative light."
"The Mothman of Point Pleasant" film ends with a sequence where Wamsley shuts down the Mothman Museum but was to begin with a sequence of the late Carolin Harris opening her restaurant. Breedlove met Harris in mid-December 2016 when shooting the downtown Christmas lights for the film. Though the two didn't talk long, Breedlove talked about the openness Harris showed him when sharing her story, particularly when it came to losing her son who was on the bridge with his father when it collapsed. This fateful meeting had an impact on Breedlove and he said Harris had agreed to participate in the film. Of course, before the interviews began filming, Harris died and now, when the film fades out at the end, it simply says, "For Carolin."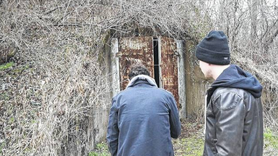 Breedlove said: "No matter what we do next, we'll never have another movie that has the heart that the Mothman movie did." As for whether or not he believes Mothman exists, Breedlove is still mulling it over.
Lowe Hotel VIP Pre-Screening:
A special VIP pre-release sceening party was held at 6:00pm on Saturday, May 27th 2017 in Point Pleasant at the Lowe Hotel. The dining room of the historic hotel was filled with seats and a large projector screen.
Each participant was given full day access to the Mothman Museum and a chance to purchase the very first copies of the documentary. They sold posters, shirts, DVDs of the film, CDs of the soundtrack and did signings.
Tickets quickly sold out for the event. After showing the documentary, Jeff Wamsley and the film makers held a Q&A. Proceeds from the screening will go toward helping to fund the Mothman Festival.
Release and The Festival Screening:
The documentary was released on the film festival circuit as well as on iTunes, Amazon, Vimeo and DVD. It was also screened at the state theater in Point Pleasant, West Virginia during the 2017 Mothman Festival in September.
Sources:

The Kickstarter Project

The "MyDailyRegister" News Article
 
The Mothman of Point Pleasant Documentary (2017)